Description:
If winter is your favorite season, then we're sure summers are unbearable for you. Get home this window AC from Voltas and transform hot, humid days into cool, pleasant days. Not only does this AC ensure a pleasant weather but it also delivers clean, fresh air.
Product Description
Get cool, refreshing air in your home with the Voltas 183CYA 1.5-ton, 3-Star window AC. Designed for small-to-medium-sized homes, this AC delivers clean, cool air to your room thanks to a Anti-Bacterial and Silver Nano filter.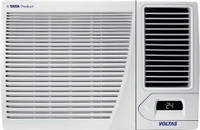 Design
This window AC has a large LED display to control the ACu0027s functionality. Fitted with an anti-bacterial and Silver Nano filter, this AC delivers clean, fresh air to your bedroom or living room. Window ACs are easier to install and cost less than split ACs.
In case of a power blackout, this AC will save the settings before it goes out so that when the power comes back, the AC will resume from where it left off.
This AC comes with a remote control so you can change the ACu0027s settings from anywhere in the room.
If you want the AC to operate for a specific period of time, such as when youu0027re sleeping, you can set a start and end time so that AC will only function for that duration.
Self Diagnosis
If there is anything wrong with the ACu0027s inner functionality, it will prompt you so you can call the technician immediately.
Specifications:
| | |
| --- | --- |
| General | |
| In The Box | 1 Unit |
| | Remote Control |
| | User Manual |
| | Warranty Card |
| | |
| Brand | Voltas |
| | |
| Model Name | 183CYA |
| | |
| Type | Window |
| | |
| Capacity in Tons | 1.5 Ton |
| | |
| Star Rating | 3 Star BEE Rating |
| | |
| Manufacture Year | 2017 |
| | |
| Color | White |
| | |
| Series | Ya Series |
| | |
| Cooling and Heating | No |
| | |
| Cooling Capacity | 4800 W |
| | |
| Compressor | High EER Rotary |
| | |
| Remote Control | Yes |
| | |
| Refrigerant | R-22 |
| | |
| Operating Modes | Swing Mode |
| | |
| Dimensions | |
| Indoor W x H x D | 66 cm x 43 cm x 75 cm |
| | |
| Indoor Unit Weight | 55 kg |
| | |
| Performance Features | |
| Panel Display | LED |
| | |
| Turbo Mode | Yes |
| | |
| EER | 3 W/W |
| | |
| | |
| --- | --- |
| Body And Design Features | |
| Other Body and Design Features | Hydrophilic Aluminium: Blue Fin |
| | |
| Air Flow & Filter Features | |
| Auto Air Swing | Yes |
| | |
| Other Air Flow Features | Air Flow Volume (Indoor): 700 CMH |
| | |
| Dust Filter | Yes |
| | |
| Other Filter Features | Nano Silver |
| | |
| Convenience Features | |
| Auto Restart | Yes |
| | |
| Timer | Yes |
| | |
| Sleep Mode | Yes |
| | |
| Memory Feature | Yes |
| | |
| Self Diagnosis | Yes |
| | |
| Additional Features | Copper Tubes: Inner Grooved |
| | Indoor Noise Level: 56 dB |
| | Connecting Pipe Type: Cu – Cu |
| | Air Vent (Cross Flow) |
| | Connecting Pipe Length: 3.5 m |
| | Connecting Cable: 3.5 m |
| | |
| Power Features | |
| Power Requirement | AC 230 V, 50 Hz |
| | |
| Power Consumption | 1649 W |
| | |
| Operating Current | 7.4 A |
| | |
| Remote Control Features | |
| Night Glow Buttons on Remote | Yes |
| | |
| Other Remote Control Features | LCD Remote |
| | |
| Warranty | |
| Warranty Summary | 1 Year for Product & 5 Years for Compressor |
| | |