Product Description
Looking for a game that will keep your hooked? Then Uncharted 4: A Thief's End is what you need to consider. The Uncharted series returns with the protagonist, "Nate", who travels in the dense forests of Madagascar to find Captain Henry Avery's long-lost treasure.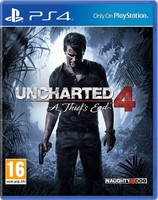 Game Mode
Whether you want to explore the dense forests yourself or want to do it with your friends – the choice is yours. The Uncharted 4: A Thief's End is a single-player/multiplayer, action-adventure video game in which the story unfolds in the third-person shooter view.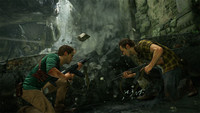 Gameplay
As Nate, you have to make your way through bustling streets, jungle isles and icy peaks to uncover the grand treasure.
Platform & Media Type
Insert the Uncharted 4: A Thief's End disc in your PS4 and experience a new level of excitement in the world of gaming.