Product Description
You donu0027t have to step out to visit the theatre to watch Jurassic World as you can have a cinematic experience with the DVD right at home thanks to this speaker system.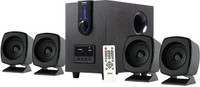 Setup
Place the 4 satellite speakers and subwoofer of this speaker system in the locations that you feel are ideal to create an immersive atmosphere in your room when you watch movies.
Sound
From swingy jazz tracks, to jumpy EDM tracks to even electrifying rock anthems, this speaker system will make you hear them clearly as it can generate sounds at an output level of up to 55 watts.
Compatibility
Play the songs that are stored on your smartphone, tablet or laptop through to this speaker system via its auxiliary input or insert your micro SD card to play the tunes that it holds. You can also connect your USB drive and play the tunes that are stored on it.
FM Support
Keep up with music and trends by tuning in to the local radio with this speaker systemu0027s FM function.
Remote Control
Peacefully sit on your couch and play, pause or change tracks by using the remote control of this sound system.
Description:
Power Output15W + 10W x 4Speaker Unit / SizeMain Unit : 10.16cm (4") / 15W, Satellite : 7.62cm (3") / 10Wx4ImpedanceMain Unit : 8 ?, Satellite : 4 ?Frequency ResponseMain Unit : 20Hz – 200Hz, Satellite : 200Hz – 20KHzS/N Ratio? 55dB Separation? 35dB Bass Up/down? 15dBSensitivity500mV rms @1KHzFM Frequency Receiver88MHz to 108MHzPower SupplyAC 140V- 280V / 50Hz Controls ProvidedRotary Type (Volume & Bass), PP/Scan, Mode, Next / TU+, Prev / TU-Input & Output JackRCA JackNet weight3.5KgFEATURES 4.1 Channel multimedia speaker compatible with USB/SD/FMAUX audio input compatible with DVD/PC/LCD TVYesFully function remote controlYesRotary type Volume & Bass controlYesPower Indicator LEDYesLED DisplayWide range SMPS based power supply (AC 140V~280V)Yes
Specifications:
| | |
| --- | --- |
| General | |
| Sales Package | 4 Speaker, 1Subwoofer |
| | |
| Model Name | IT-2616 SUF OS Multimedia |
| | |
| Type | Home Audio Speaker |
| | |
| Portable | Yes |
| | |
| Bluetooth | No |
| | |
| Memory Card Slot | Yes |
| | |
| Configuration | 4.1 |
| | |
| Power Source | AC Adapter |
| | |
| Power Output | 55 W |
| | |
| Frequency Response | Main Unit : 20Hz – 200Hz, Satellite : 200Hz – 20KHz |
| | |
| Impedance | 8 Ohms |
| | |
| Color | Black |
| | |
| Wired/Wireless | Wired |
| | |
| Subwoofer | 1 |
| | |
| Built-in Fm Radio | Yes |
| | |
| Outdoor Usage | No |
| | |
| Product Details | |
| Configuration | 4.1 Channel |
| | |
| Driver Type | 1 Subwoofer, 4 Satellites |
| | |
| Compatible Devices | PC |
| | |
| Connector Type | RCA Jack |
| | |
| Audio Features | |
| Signal to Noise Ratio | 55 dB |
| | |
| Maximum Output RMS Per Satellite | 10 W |
| | |
| Maximum Output RMS Subwoofer | 15 W |
| | |
| | |
| --- | --- |
| Other Details | |
| Chassis Material | Wood (Subwoofer) Chassis |
| | |
| Sensitivity | 500 mV |
| | |
| Controls | Volume, Bass, Scan, Mode, Next, Prev |
| | |
| Separation | Greater Than 35 dB |
| | |
| Power Input | 140V- 280V / 50Hz |
| | |
| Other Features | FM Frequency Receiver: 88 MHz – 108 MHz, Bass Up / Down: 15dB, Impedance Main Unit: 8 Ohm, Satellite: 4 Ohm, Net Weight: 3.5 kg |
| | |
| Warranty | |
| Warranty Service Type | Customer Need to Contact Nearest Service Center |
| | |
| Covered in Warranty | 1 Year Manufacturer Warranty |
| | |