Product Description
The Flipkart SmartBuy Flat Hi-speed 'Charge & Sync' data cables offer you a stylish way to stay connected to your favourite devices. Their flat cable design keeps them tangle free at all times while offering you fast charging and high-speed data transfer capabilities.
They have been designed to withstand rough use, voltage fluctuations and extreme temperatures so that you will never have to worry about durability or performance. Just plug-in and stay connected to your world.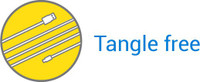 Tangle Free
You will never have to worry again about untangling knots on your cable. Its sleek flat design not only looks elegant but also ensures that the cable stays untangled and ready to use, always.

Up to 2X Faster Charging
This 2A Hi-speed USB cable used in tandem with a 2A power source ensures that the maximum power output flows to your device and reduces charging times by up to half when compared to a 1A power source. Less time plugged in for charging means more time with your device on the go.

480Mbps Hi-speed Data Cable
With the Hi-speed USB data cable, you can not only charge your device but also transfer data between devices at the same time. Its specially designed Hi-speed core lets you transfer data at rates of up to 480 Mbps. This means you can transfer up to a 3GB HD movie in under a minute.

Joint Break Proof – Life of over 10,000 USB insertions and removals
On an average, there are 800 USB cable plug-in and plug-out actions in a year. We have built our cables to last for over 10,000 USB insertions and withdrawals thereby ensuring durability.

Weather Proof – Tested for extreme temperatures and high humidity
From the humid coasts of Mumbai to chilly terrains of Kashmir, no matter where you go, the Flipkart SmartBuy Hi-speed data cable will always be with you every step of your journey. It's built to withstand extreme temperatures ranging from -20°C to 70°C as well as adverse humidity of up to 95% RH.

Overload and Short Circuit Protection
You don't have to worry the next time you face voltage fluctuations. These data cables have been built to withstand intermittent voltage fluctuations and current overloads.
150+ Checks and Tests
Flipkart SmartBuy data cables have passed over 150 checks and tests to ensure adherence to quality, safety and reliability standards.
Specifications:
| | |
| --- | --- |
| In The Box | |
| Sales Package | 1 Flat 2.1A USB to Micro USB Cable |
| | |
| Number of Contents in Sales Package | 1 |
| | |
| General | |
| Brand | Flipkart SmartBuy |
| | |
| Type | USB Cable |
| | |
| Cable Type | Hi-Speed Cable 480 Mbps Speed |
| | |
| Connector 1 | 1 Pin USB 2.0 |
| | |
| Connector 2 | 1 Pin Micro USB |
| | |
| Cable | Flat |
| | |
| Cable Version | 2 |
| | |
| | |
| | |
| Model | EU11P |
| | |
| Compatible Devices | Mobile |
| | |
| Color | Black |
| | |
| Suitable For | Mobiles, Powerbanks, Tablets, Media Players |
| | |
| Cable Length | 1 m |
| | |
| Transmission Features | |
| Maximum Current Rating | 2.1 A |
| | |
| Warranty | |
| Warranty Summary | 6 Months Limited Domestic Brand Warranty |
| | |